Polished Concrete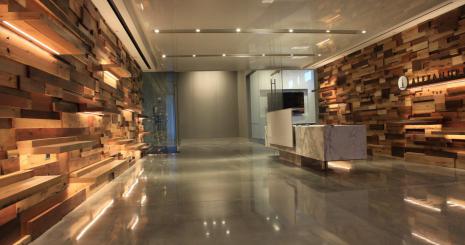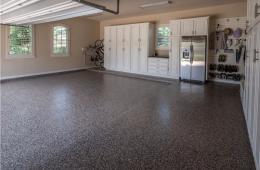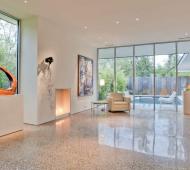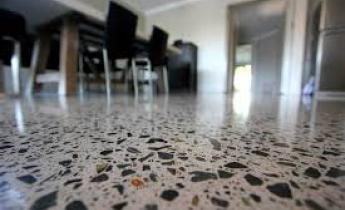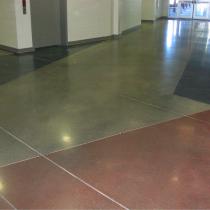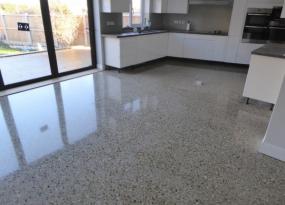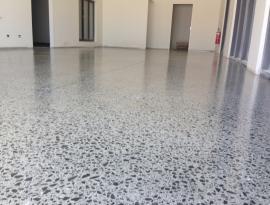 Polished Concrete is a mechanically treated concrete surface that has improved resistance to abrasion and chemicals.
Brief description
As an alternative to overlays and resin coatings, polishing of the concrete is a yet another way to give life to an old existing concrete flooring or to install a fresh concrete floor, polish and seal it to give it an extra abrasive and compressive resistance.
There are several types of concrete polishing based on the level of glosiness and amount of internatl concrete aggregate that is being exposed during the grinding process.
Aesthetic appearance
Concrete polishing makes existing concrete surface look flat, shiny and attractive. There are several stages of grinding and polishing and depending on your budget and design concept the surface can be honed, semi-gloss or mirror-shiny with either low, medium or full exposure of the concrete aggregate.
The concrete surface is also treated with a liquid hardener and anti-stain sealer so the final flooring will not fear high vehicular traffic or simple chemicals. High mirror-like gloss of the final substrate allows to safe significant money on lights and electricity bills. 
Ideal for
Industrial or public high-trafficed areas, such as warehouses, workshops, art-centers, museums, supermarkets and shopping malls.
Apply on:
The final look of the polished concrete will highly depend on the quality of the concrete itself. Fresh concrete floors can be installed on top of any condensed substrate such as compacted sand or gravel. Old concrete floors should be repaired and treated accordingly to their age and overall usage. Construction joints should be always respected and filled with a suitable sealant.
Advantages:
Extreme durability and compressive strength 
High abrasive resistance and scratch resistance
Fast-track and low cost
High gloss finish available
Wonderful look
Longevity and ability to withstand highest vehicular and pedestrian traffic
Low maintenance