Polished Overlays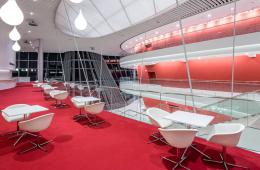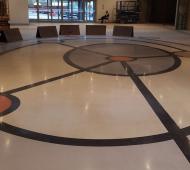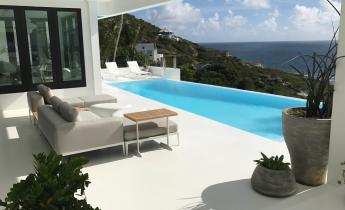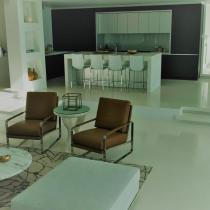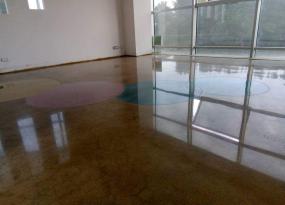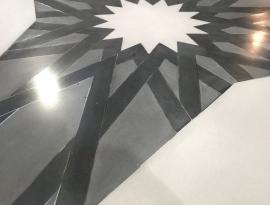 Polished Overlay is a cement-based self-leveling flooring solution with application thickness of 1 cm. It is used to create wide, seamless polished floors, uniformly colored and strong to any types of human or vehicle traffic.
Brief description
Polished overlay it is basically a cement-based binder that is used to make a cement terrazzo flooring. It consists of specially granulated cements, sands and polymer-based fillers. It is mixed and poured on site as a regular self-leveling flooring with typical application thickness of 10-12 mm.
The very next day after pouring, polished overlay should be mechanically treated and polished with diamond tools to improve its abrasive resistant and give it a polished, natural stone look. Low shrinkage of the most modern overlay materials allows to create huge seamless uniformly colored polished floors.
Aesthetic appearance
Polished overlay can be pigmented or unpigmented. Depending on the type of cement and country of origin, the color will vary between pure white, off-white, beige, grey, charcoal and other earthen colors.
Overlay can remain unpolished as well, sealed with an anti-stain polyurethane solution. However, grinding and polishing of the overlay will significantly enhance both mechanical and aesthetic propreties of the flooring, making it honed, semi-glossy or mirror-shiny.
Ideal for
High-trafficed areas in retail (supermarkets), civil engineering (airports, malls), industrial zones (warehouses and plants).
As a part of the urban concept or contemporay design it can be also installed for private viilas, apartments, art centres, museums etc.
Apply on:
For concrete or polymer concrete there are no specific requirements to the substrate. Any slab, concrete screed or semi-dry screed will fit.
Tolerance of the floor should not exceed 5mm every 3m in any direction. Any crack or joint should be treated and repaired in best possible way. If installed correctly and maintained regularly, Polished Overlay floors can serve you for 20+ years with no need for any big investments.
Advantages:
Extreme durability and compressive strength of more than 60N
High abrasive resistance and scratch resistance
High chemical resistance to aggressive liquids
High glossiness
Wonderful look
Longevity and ability to withstand highest vehicular and pedestrian traffic