Resin Bound Gravel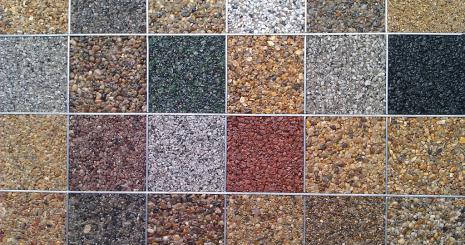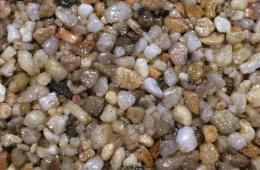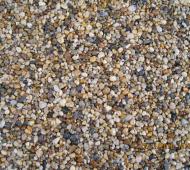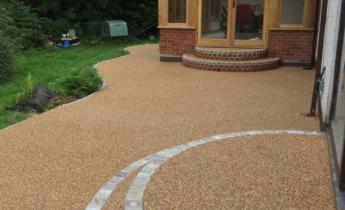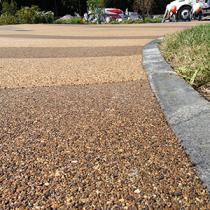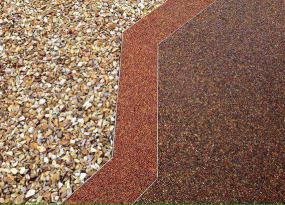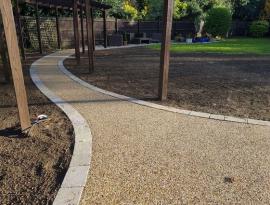 Resin bound stone carpet flooring is a perfect solution for a landscaping and swimming pool decks.
Brief description
Resin bound system is a mix of natural mineral aggregates, such as marble and granite chips with a UV-stable polyurethane resin binder that is being directly laid to an asphalt or concrete flooring.
It creates a breathing water-permeable coating, stable to any kinds of agressive liquids, terrific GCC summer temperature, severe pedestrian or vehicluar traffic.
Aesthetic appearance
This type of flooring consists of a graded marble and granite chips, sized from 1 to 5 mm and glued together with a small amount of a transparend resin binder. It gives an any outdoor or even indoor space a seamless and natural look with a variety of natural mineral colors.
It is possible to split different zones with a stainless steel joint strip and create differently-colored areas. Stone carpet flooring is naturally slip-resistant and semi-matt.
Ideal for
Landscaping any types and areas which will require to resist a pedestrian or vehicular traffic, agressive liquids such as chlorided swimming pool water or salty humid GCC weather. Typical usage is swimming pool decks, pathways and walkways all around the private Villas, Golf Clubs, Schools, Hotels etc.
Terrazzo Flooring has succesfully installed a vast seamless area of Resin Bound stone carped for all the renewed pool decks of Jumeirah Beach Hotel in 2018.
Apply on:
Best suitable surface for such system is a strong and solid asphalted road. Other alternative is a concrete screed, however the shrinkage of the concrete flooring might lead to a risk of cracks. To avoid such risks, most of the construction and expansion joints in the existing concrete should be accordingly treated and respected.
Advantages:
Extreme stability to GCC weather conditions such as heat, humidity and salty winds
Wide choice of mineral aggregates made of natural marble and granite
Water and heat permeability, stone carpet flooring is much colder in summertime comparing to other typical outdoor floors
Seamless and colorfull
Portfolio